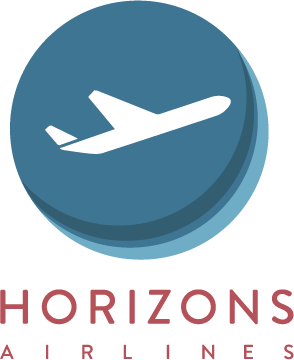 Horizons Airlines is the design of an arline app, the aim of which is to bring the best experience to the passenger before he even comes into contact with the airline. The philosophy behind the app is not only to win the trust and safety of the passenger, but to strengthen it, among other things by building a relationship with him, in this case friendship.
The start
After the setup, the app welcomes you directly. You have the option to search specifically for something or to browse through the different areas. The app is divided into 3 main areas, lounge, service and contact.
The Lounge
The Horizons Lounge is the place where every passenger can not only get an idea of ​​his upcoming trip, but can also build trust and friendship. Knowledge creates security and nothing is more important to the airline than the security and comfort of its customers.
The flights
The basis of suspicion is ignorance, we at Horizons Airlines know that, for this reason we want to give as much transparency as we can now. In the flights area you can see, sort and organize all your upcoming flights with us. If you choose one, you can view all the details of the flight. When is check-in? where is the departure gate? how long do you fly to the destination? what does the route look like that you fly ?, this and more is answered here. But more than that, it is important to know who you are flying with, who will take care of you above the clouds, just take a look at the crew information and learn a little more about the people who take care of your safety and comfort on board all of this from our app.
The Cards
The card section contains everything related to your card traffic in connection with Horizons Airlines, e.g. boarding cards or check-in cards, but also voucher cards or coupons that are provided by us can be found here. Just have a look while you wait in the lounge, you can enjoy a free espresso, or while you wait in Dubai you can maybe get a 15% discount on breakfast from one of our participating partners. When the time comes to get on board, just show your digital ticket and the journey can begin, no more paper, no more stress, just relaxation, from start to finish.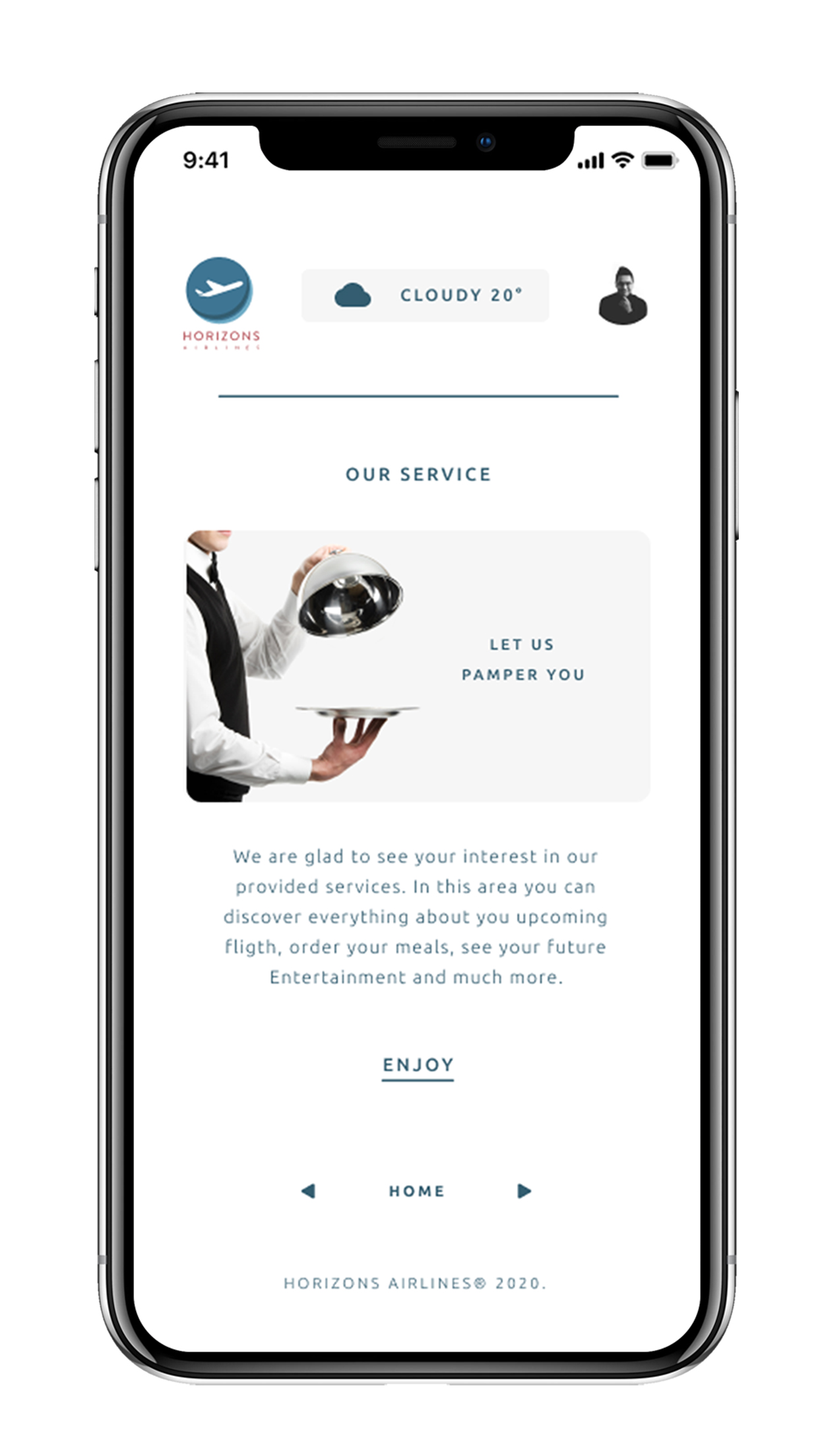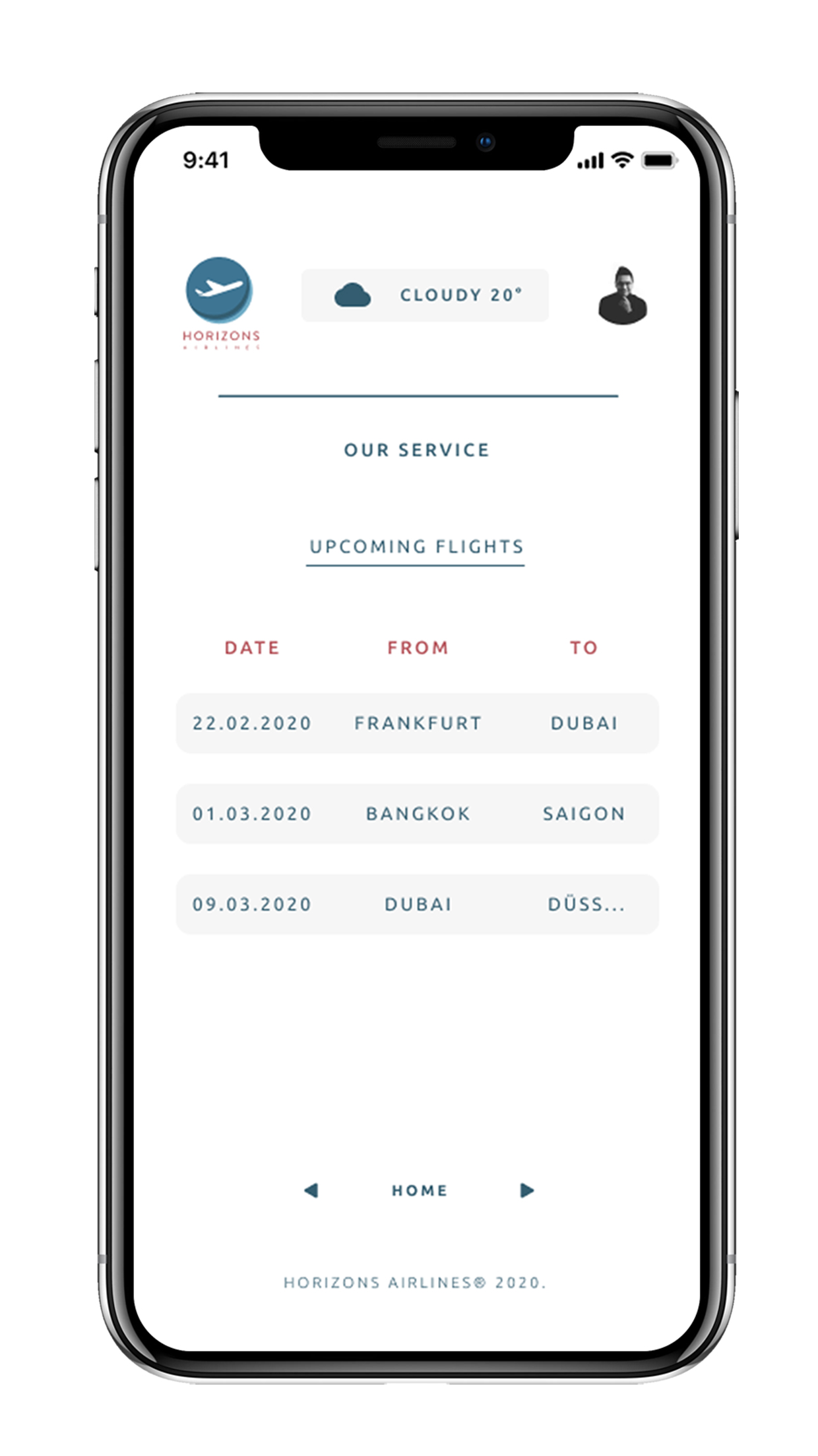 Service is everything
The service at Horizons Airlines stretches from our app to dessert, everything is well thought out to offer you as a passenger the best, because you deserve it.
The Service
Service is everything, that's why we offer you the opportunity to discover it. Take a look at the flight plan, or how about if you already knew where your seat is before you leave home? and if you are there and you don't like the place? then simply swap your seat, provided there are still free seats. Or how about a little stimulation for the appetite on board? look for what options you will have on board and order via app so that the food can be brought to you on board even faster. As far as entertainment is concerned, prepare yourself for exciting films, classics, music and more, so you don't have to cram your mobile device with entertainment that you already get from us. Welcome aboard!.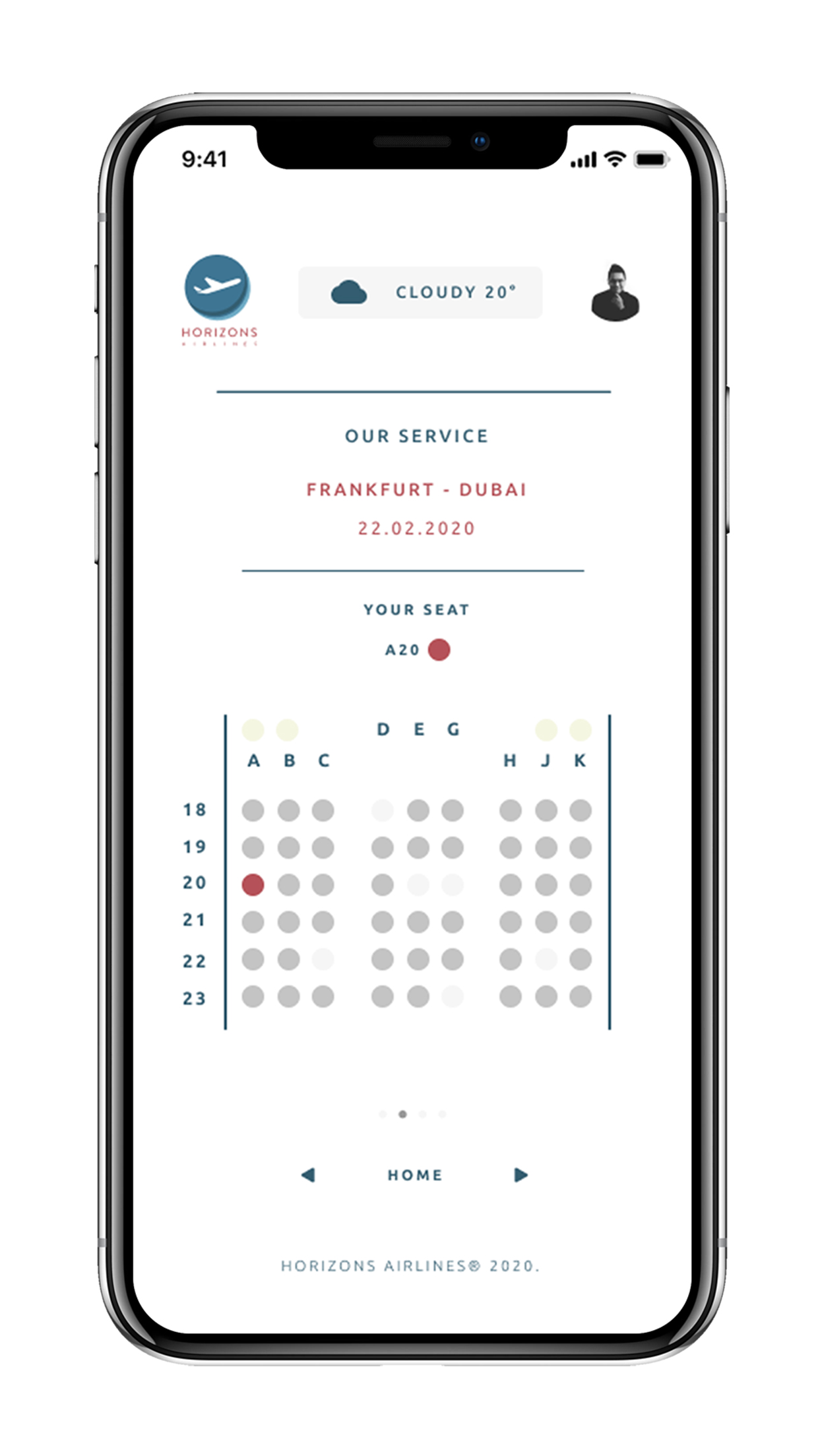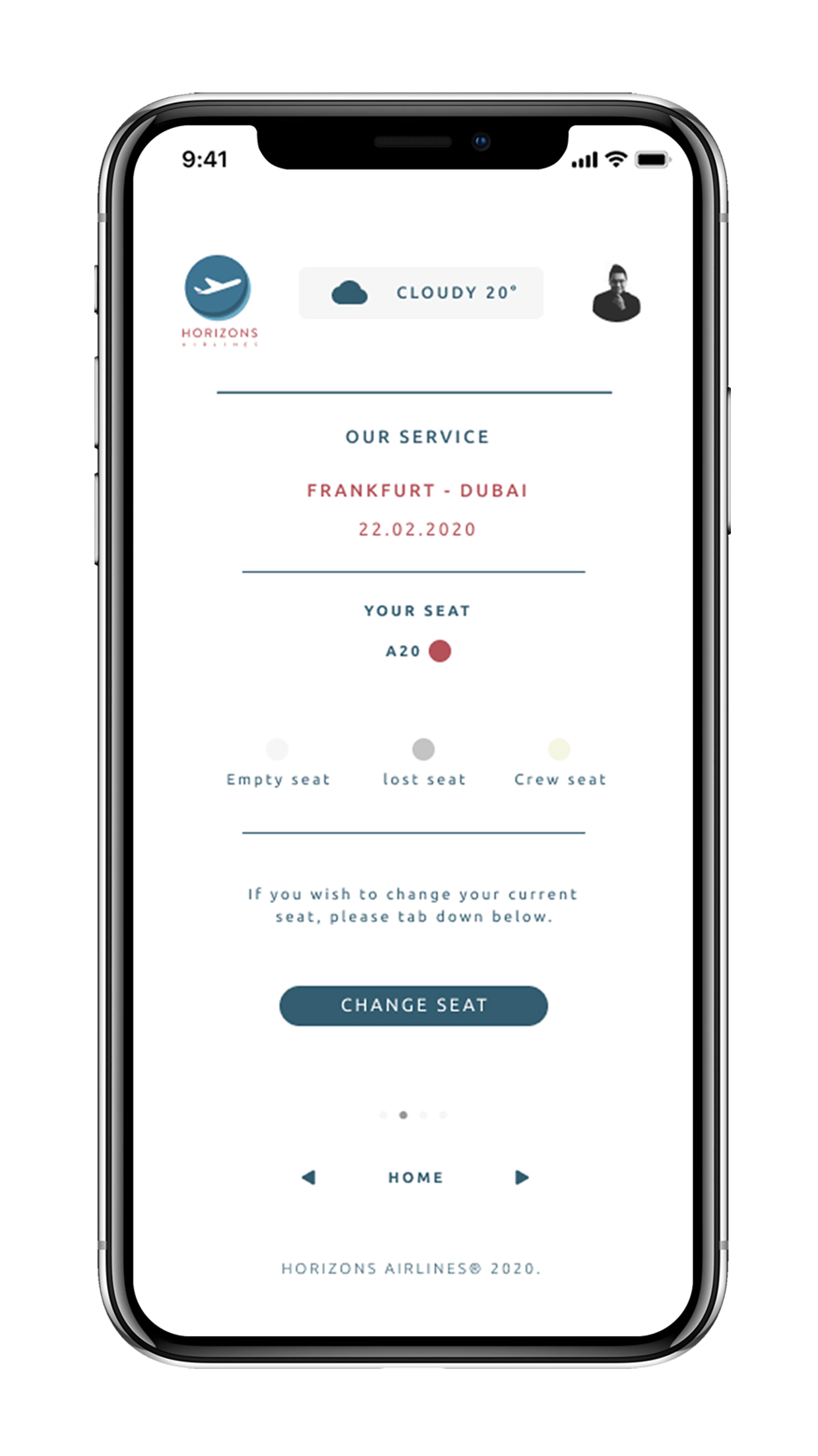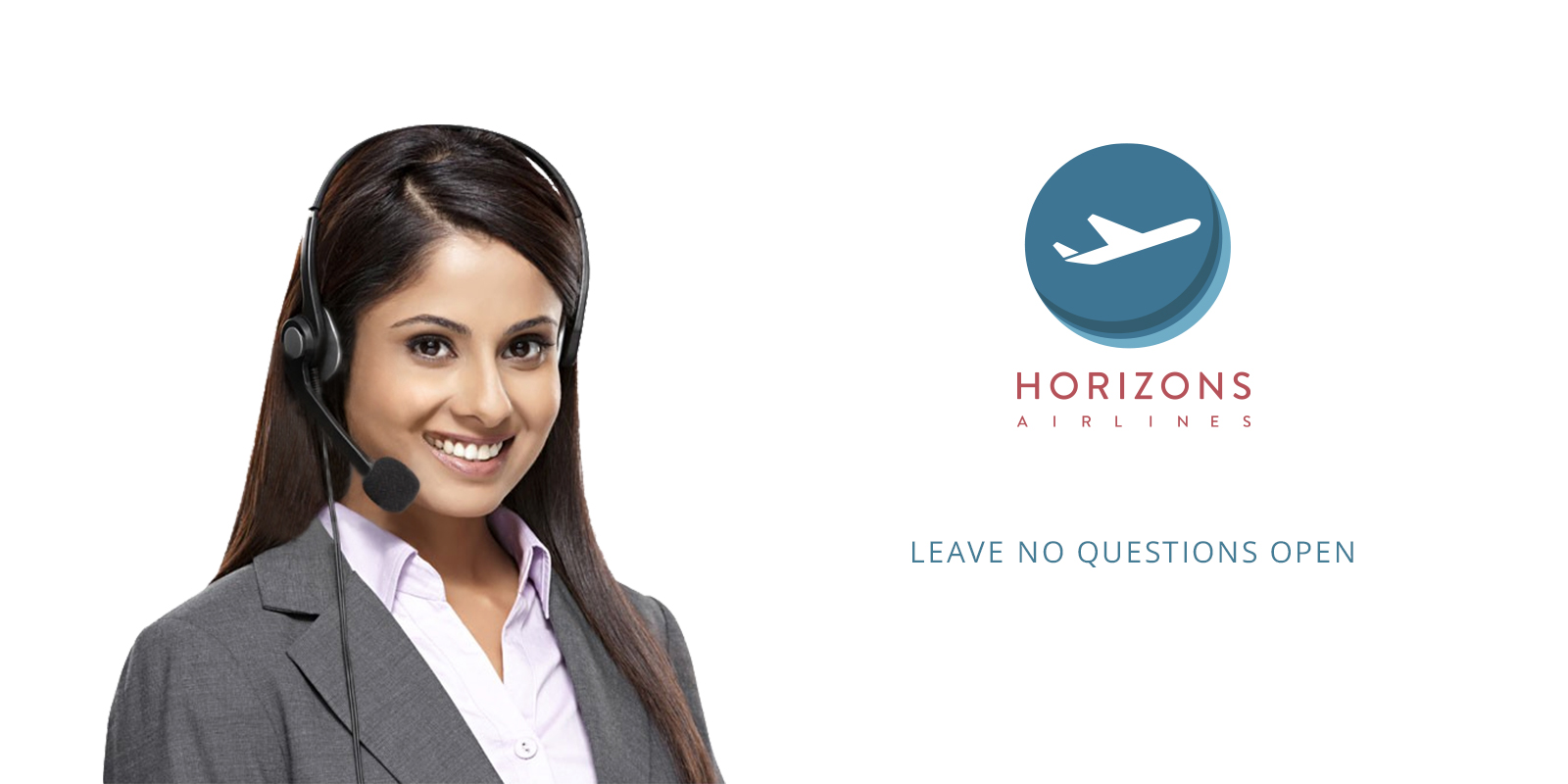 There are no unimportant questions, not with us
Questions are there to be answered, no matter how simple or complicated they should sound. If you have a question, do not hesitate to contact us, whether at the airport in person, by email or on the phone. If you want to visit us at the airport, our app is compatible with Aerflow, so you can quickly and easily navigate to us, we look forward to your visit. But if you wish, you can of course look for answers to your questions yourself, just enter a word that fits your problem or question, or describe it if you prefer, we will take care of the answer.
Our greatest privilege is to have you on board.